Crypto investment flows remain negative for the third week ending April 22, however, the magnitude of outflows has cooled off according to CoinShares' latest weekly report.
The fund flows report highlighted that the past week recorded outflows of $7.2 million. Thus, continuing the third consecutive week of negative flows totaling $219 million in the last three-week period. 
The same report for the weeks ending April 15 and April 8 had previously recorded respective outflows of $97 million and $134 million while giving room for some late trades.
Interest in altcoins spike
The report marked that despite weak market sentiments, year-to-date flows remain positive at $389 million. Also, interest in Bitcoin was almost positive with inflows totaling $2.6 million last week.
However, Ethereum failed to impress for the third consecutive week with outflows totaling $16.9 million. Year-to-date flows also remain negative for the second generation token at $169 million.
On the contrary, altcoins that are major competitors to ETH, like Avalanche, Solana, Terra, and Algorand marked significant inflows of $1.8 million, $0.8 million, $0.7 million, and $0.2 million respectively.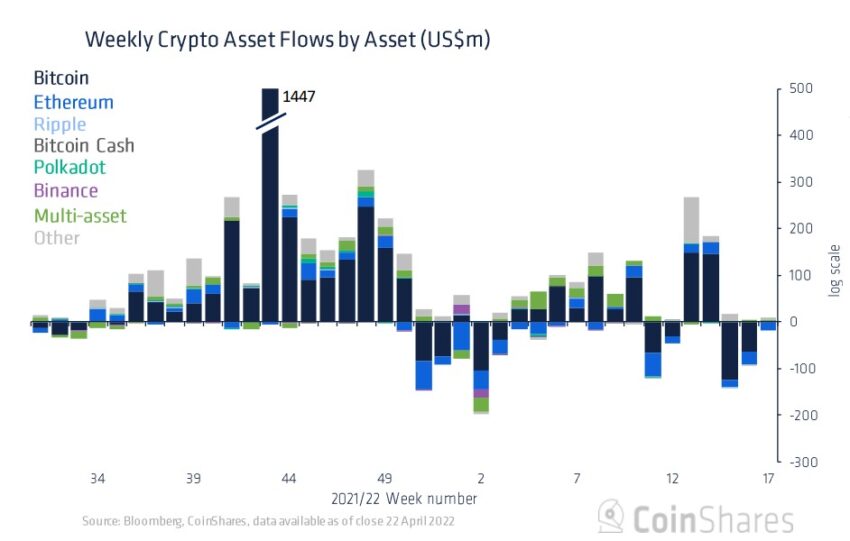 Broader sentiments remain weak
The profit-taking comes at a time when the cumulative cryptocurrency market cap remains under $2 trillion, with Bitcoin struggling to sustain the key level of $40,000. The volatility and momentum indicated in the Bitcoin Fear and Greed Index reflected extreme fear in the market on April 25.
And with that, technical experts are anticipating more downside. Bloomberg cited comments from the technology and financial services firm NYDIG, that noted, "As it becomes more valuable to hold dollars, some investors may reallocate from Bitcoin or gold to the dollar,"
But, the team also expects fundamental factors to support and drive the growth of Bitcoin. Analysts at Blockforce Capital told Bloomberg, "We have only seen this level of outflow from exchanges four previous times since the start of 2018. Three of those instances correlated with a sharp upward movement in price not too long after."
Overall, blockchain equities have remained resilient in the past three weeks. Last week, they saw an inflow of around $3 million despite the threat of rising interest rates dampening the sentiments, CoinShares noted.
However, project launches might have taken a hit in the first quarter of 2022. The report underlined, "The total number of investment product launches has cooled, with only 11 in Q1 2022 versus 24 in Q4 2021."
The post Crypto Outflows Cool Off Despite Weak Sentiment, Fear in the Market appeared first on BeInCrypto.