Eight Exchanges Including OKX, Gate.io, & AscendEX Signal Readiness for Vasil Hard Fork
Eight exchanges, including Gate.io, MEXC, Bitrue, OKX, and AscendEX, including five other top decentralized applications are ready for the Cardano (ADA) upgrade.
The Cardano Foundation exchange integration team has committed to supporting exchanges holding ADA liquidity as they upgrade their systems. Users holding ADA on centralized exchanges will not be negatively affected by the exchanges' upgrades, but they can expect service disruptions. To proceed with the hard fork, Input Output Global and the Cardano Foundation want 25 exchanges to run version 1.35.3 of the fork software, representing 80% of ADA's liquidity. All software components required by exchanges are ready.
The Vasil hard fork was announced as part of the 2022 Cardano roadmap described by founder Charles Hoskinson in Jan. 2022. While the Alonzo hard fork in 2021 made smart contracts and decentralized finance applications possible, Vasil is focused on increasing transaction throughput, script efficiency, and reducing block transmission latency.
Critical mass to trigger hard fork
For the hard fork to happen, 75% of mainnet transaction blocks must be generated using version 1.35.3 of the node software, 25 exchanges must have upgraded their systems, and the top 10 decentralized apps by total value locked must be running on the pre-production chain. The pre-production chain has a configuration matching the main Cardano chain. It is intended to be a long-term testing environment for applications. Applications had to be tested in two test environments before making it through to "Preview" and "Pre-production" testnets.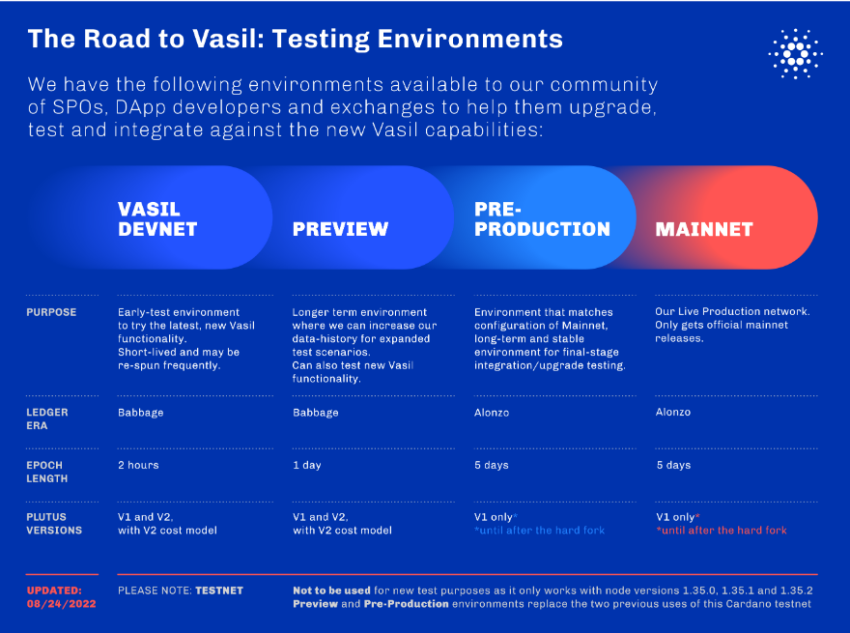 At press time, 94% of transaction blocks on the mainnet were being generated by Vasil node software version 1.35.3, meeting the first criteria. So far, only three of the top 12 exchanges holding the majority of ADA liquidity have indicated their systems are ready: MEXC, Bitrue, and WhiteBit. Five other exchanges have also said they are ready, including OKX, Gate.io, AscendEX, BtcTurk, Dex-Trade, and NDEX.
Five of the top 10 decentralized applications have been tested on the pre-production chain, including Dquadrant, Revuto, Aada Finance, Lending Pond, and Wingriders. As Be[In]Crypto recently reported, Aada Finance became the first decentralized application on Cardano to introduce DeFi primitives like borrowing and lending. Other dApps currently in pre-production testing include Minswap, SundaeSwap, MuesliSwap, ADAX Pro, and VyFinance.
Coinbase and Binance not ready
Exchanges have needed to spark recently, with Binance, Coinbase, and Kraken all announcing measures to accommodate the Ethereum merge that started with the Bellatrix upgrade earlier today. At press time, Binance's status regarding the Vasil upgrade is "Nearly There," while Coinbase's is "In progress," together with Kraken, Crypto.com, and Upbit.
Cardano (ADA) recently overtook XRP to become the seventh-largest cryptocurrency by market cap.
For Be[In]Crypto's latest Bitcoin (BTC) analysis, click here.
The post Eight Exchanges Including OKX, Gate.io, & AscendEX Signal Readiness for Vasil Hard Fork appeared first on BeInCrypto.