The overseas British territory of Gibraltar has introduced new crypto rules on market manipulation and market integrity to its Distributed Ledger Technology (DLT) framework.
Albert Isola, Minister for Digital and Financial Services, stated, "In 2018, we were the first jurisdiction in the world to legislate and actually have a regulatory framework for the DLT sector." The minister added in his official address that Gibraltar is once again the first in the world to add the tenth core principle on market manipulation and market integrity.
Gibraltar's ten core principles for crypto regulation
Since January 2018, Gibraltar Financial Services Commission was issuing licenses and regulating the crypto sector under the nine core principles in the DLT Regulations.
Lee A Schneider, General Counsel at Ava Labs and member of Gibraltar's Market Integrity working group said, "Market integrity is the next frontier for digital assets regulation, so we naturally see the authorities in Gibraltar taking a leading role in defining the core concepts in a practical fashion that furthers its existing regulatory regime."
The amendment of the Tenth Regulatory Principle to the regulation will require "that all DLT Providers operating in Gibraltar conduct themselves in a manner which maintains or enhances the integrity of the markets in which they participate. "
According to Minister Isola, "Like any other market, the virtual asset market must operate in a manner that is fair, orderly and efficient, whilst enhancing the levels of trust that firms in the regulated sector currently enjoy."
The jurisdiction's U-turn from being a tax haven
Earlier this year, Blockchain company Valereum agreed to buy a majority stake in the Gibraltar Stock Exchange (GSX) to create the world's first crypto hub that links fiat and crypto markets.
Up to this point, the region's regulator has issued licenses to 15 DLT providers to better regulate the sector and overturn its image of a tax haven.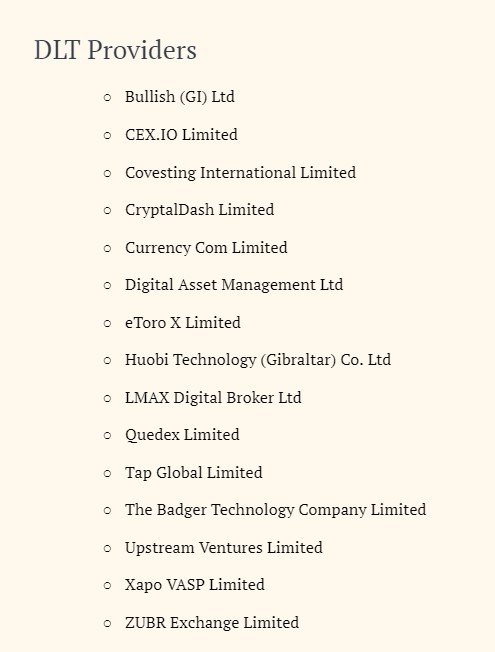 Last year, Isola had commented that Gibraltar was a tax haven for 20 years, however, stronger policies have now been put in place. He remarked, "If you wanted to do naughty things in crypto, you wouldn't be in Gibraltar, because the firms are licensed and regulated, and they aren't anywhere else in the world,"
Meanwhile, Isola told CNBC in a recent interview that more and more jurisdictions are recognizing the need to regulate the crypto sector as there is increased adoption. In the UK as well, the regulators have tightened their grip on illegal crypto ATMs, virtual asset promotion norms, and granting licenses under the Financial Conduct Authority.
And so far, FCA has issued licenses to 33 crypto firms under the anti-money laundering rules.
Isola argued in the interaction with the media outlet that even Gibraltar is "fully compliant with all transparency and exchange of information standards applicable in the U.K.,"
The post Gibraltar Extends Virtual Asset Legislation to Set 'Highest Market Integrity Standards' appeared first on BeInCrypto.