Investors Continue Buying Bitcoin Dip as Price Drops Below $19,000
The number of BTC wallets holding between one and ten BTC has risen to an all-time high as bitcoin drops below $19K.
Bitcoin briefly dipped to a nine-week low of $18,917 on Sep. 6, 2022, triggering a buying spree that saw the number of wallets holding 1-10 BTC surge to over 750K. The previous low was on July 3, 2022, when the price hit $18,780.
The number of addresses holding between one and ten bitcoin has been on a steady rise since the BTC price dropped below $50,000 in late Dec. 2021 and early Jan 2022.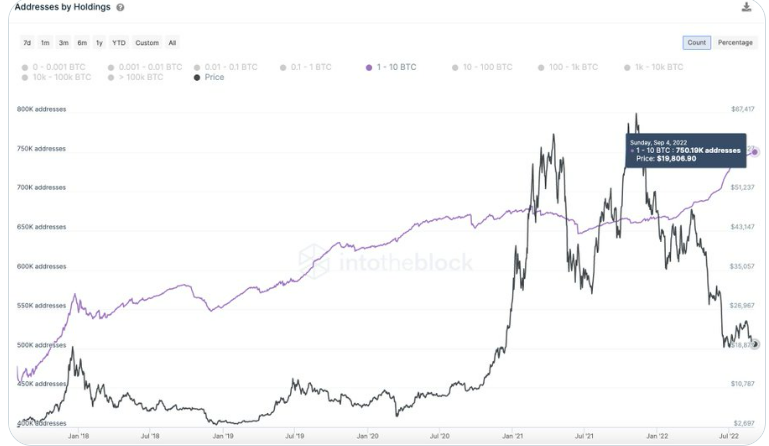 Massive liquidations as bitcoin touches 9-week low
The recent drop in price also saw bitcoin positions liquidated to the tune of $77 million, with over $40 million liquidated in the last hour-and-a-half. The majority of BTC liquidations occurred when BTC dropped to about $18,964. Crypto exchanges OKX and Binance lead liquidations across multiple cryptocurrencies today, with Binance liquidating $39.03 million and OKX $70.37 million.
Liquidation happens when a trader puts up a minimum amount (margin) which is then multiplied to create a leveraged position. For example, a trader can put up a $500 margin with 50x leverage to create a $25,000 position. The trader then buys a certain amount of bitcoin with his leveraged amount. If the price of BTC drops by more than 2%, the trader will lose his initial $500 through forced liquidation. It is a high-risk, high-reward strategy, and regulations govern the amount of leverage that can be used.
Coinbase Pro had to shut down its leveraged trading product offered to Coinbase Pro customers following a regulatory clampdown.
Forced liquidations are unlike traditional markets, where traders get a margin call to supply extra funds to cover their position.
Institutional adoption key to driving wallet growth
While the number of wallets holding between one and ten bitcoin has increased, hedge fund billionaire Anthony Scaramucci believes that institutional adoption will be a crucial driver in the growth of bitcoin wallets and its adoption as an inflation hedge. Institutions like BlackRock say that institutional interest in bitcoin is strong, despite the price dropping almost two-thirds from its Nov. 2021 high.
UK investment conglomerate Abrdn and Charles Schwab have dipped their toes in the bitcoin pool, with Abrdn purchasing a stake in crypto exchange Archax and Schwab launching a crypto exchange-traded product.
For Be[In]Crypto's latest Bitcoin (BTC) analysis, click here.
The post Investors Continue Buying Bitcoin Dip as Price Drops Below $19,000 appeared first on BeInCrypto.